Keening Wake Event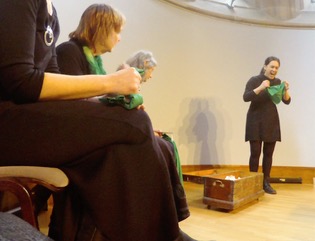 déirdre ní mhathúna, Madge Bray, Nerea Bello and Morag McDonald in a live interpretation of the Caoineadh
As a culmination of The Keening Wake Research Project (2017-18), the artist-researchers devised a piece, a 'taisbeanadh beò' which drew together the many strands of the project. The Caoineadh in the Scottish Gàidhealtachd is often referred to in poetry and oral lore but, like its Irish Gaelic counterpart, its sound and experience remain an enigma.  Our first important step forward was the decision to work with voice – to search for the 'raw expression' of grief, bypassing many beautiful renditions of laments and elegies. Instead we have reached out for genuine echoes of the mnàthan-tuirim in folklore and in orally collected song. We have taken vocables from many sources expressing loss and sorrow, and used them to weave a continuous thread, all connecting our audacious attempts at recreating the sound of the keeners of old. The event was an exploration inspired by the many great and undocumented Gaelic women – extempore bards, keeners, midwives and lovers.
(For the difference between a keen and a lament see The Keening Tradition Page).
Cumha Iain Gairbh
déirdre ní mhathúna sings a version of this famous Cumha or lament,  from a School of Scottish Studies recording by Nan Mackinnon on Barra (1956)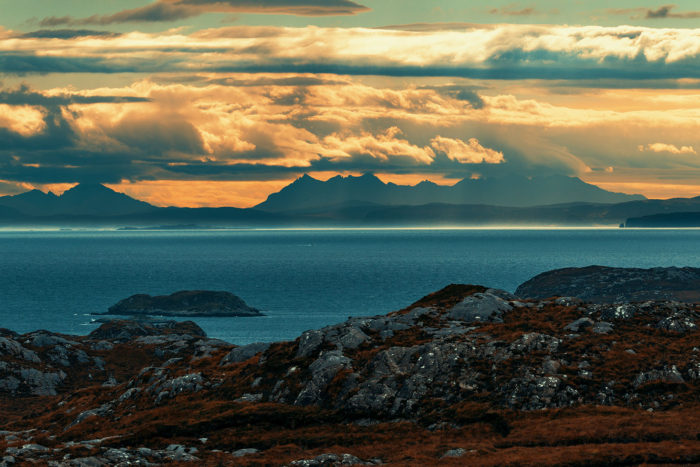 Iain Gairbh MacLeòid of Raasay and 16 of his kinsmen – daoine uaisle – perished on the Friday after Easter in April 1649 when their birlinn sank in the Minch. His sister is said to have composed a lament for him every Friday for a year. The mystery of where these song traces might be remains.  This version from Nan Mackinnon contains another treasure however – oral evidence of a living keening tradition. In the second line Nan sings "tha mi a' caoineadh an tuirim/I am crying the keen".
Audience participation and feedback
"As I sat with these women, I saw that the song poem is a raft for the grief, allows it to land somewhere, to be both simultaneously expressed and transformed.  And the group of women droning and humming around the one song crying her story, for all to see and know, a raft for all of us.  We all have grief songs. What a beautiful old way to hold oneself and be held in grief."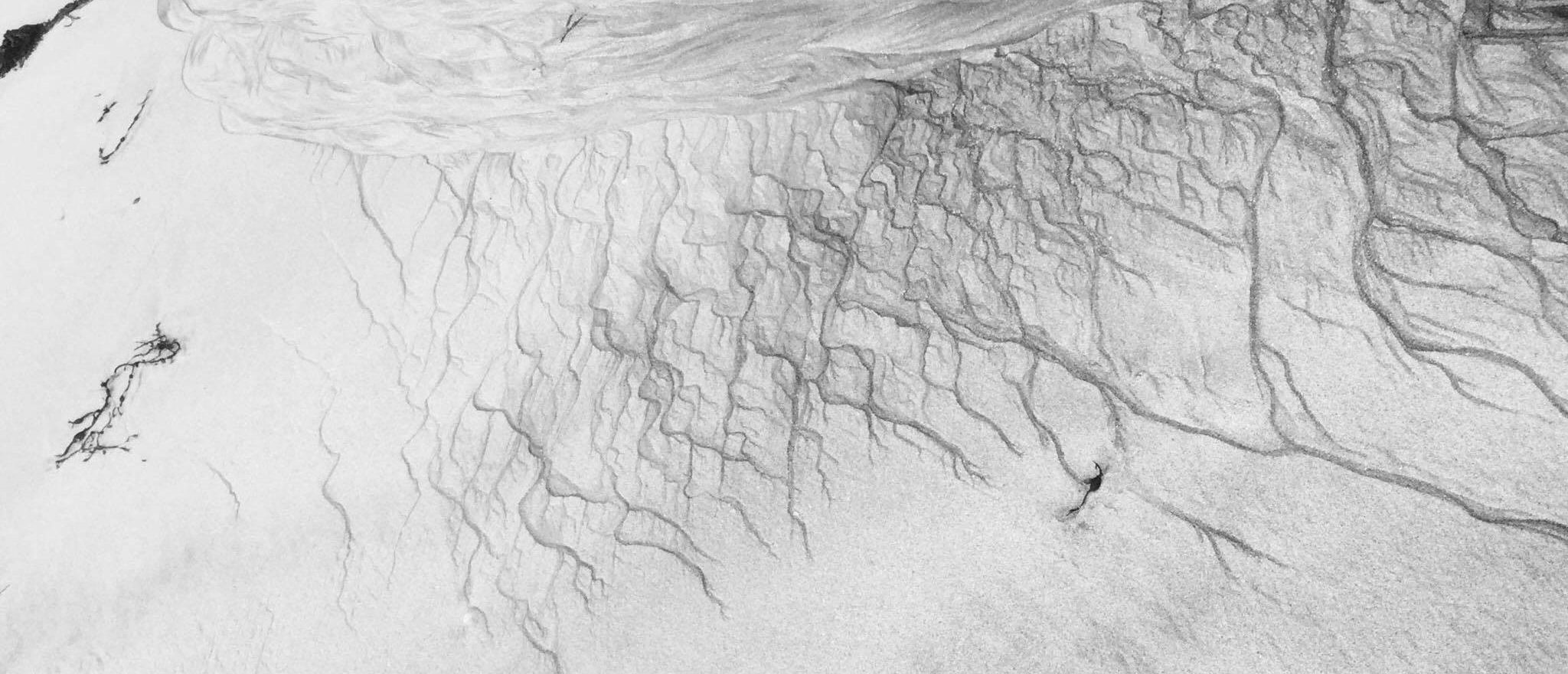 The audience was invited to write on a small scroll to contribute their own memory to the Keening Kist, which held our loved ones now departed.
"I thought this afternoon was totally and utterly stunning. Beautifully explained, wonderfully sung (with such deep integrity) and altogether, incredibly moving. Please keep up this astonishing work."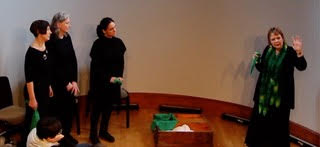 "What an extraordinary event – I was intensely moved to see what the four of you put together, the atmosphere you created, and the engagement of those who came."
"It was a courageous performance."