Further Resources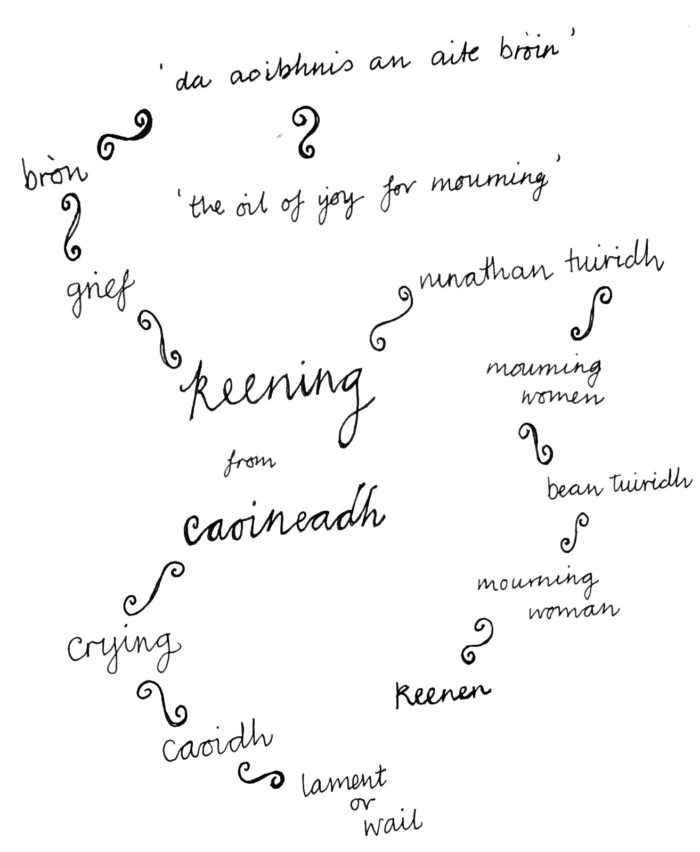 There is a universe to explore in the Keening tradition and we hope to have catalysed further research into the subject. Here are a few selected resources to explore.
Online Sound Archives
Tobar an Dualchais contains over 40,000 oral recordings made since 1930's, including the Canna Collection.
Alan Lomax Archive Alan Lomax brought the most sophisticated recording equipment available on his field trips to Ireland, England and Scotland  in 1951, '53 and '58. Among the wealth of folklore and folksong from around the world in his archive, the Lomax recordings of traditional singers in these islands captured a tradition on the cusp of modernity. Keen for a dead child by Kitty Gallagher can be found in this collection.

The Caoineadh in the Conamara tradition Cartlanna Sheósaimh Uí hÉanaí ; the archive of the great sean nós singer Joe Heaney contains a wee 'blas'/taste of a conamara keen, or caoineadh.
Keening Wake Research Project
The Keening Wake research project was conducted over a six month period and is not an ongoing resource centre. However all sound recordings will be deposited with the School of Scottish Studies Archives along with a comprehensive academic reading list.
Radio and TV
The Sound of Grief An in-depth exploration of the Caoineadh in the Irish world by anthropologist and sound artist Michelle Collins.
Songs for the Dead BBC Radio 4 production broadcast on 16/08/16, currently available here.
Gaelic lament tradition A beautiful introduction from one of Scotland's most respected folklorists, which makes the connection with keening.
Gaelic and Scots language
Sabhal Mòr Ostaig Scotland's Gaelic College offers short and longer residential courses in Gaelic language and culture, on the Isle of Skye.
The School of Scottish Studies Archives (Sgoil Eòlais na h-Alba)
SSSA houses a publicly accessible sound archive of Scottish folklore, folksong and folklife and the Scottish Studies library. It is also home to several special collections that can be viewed by arrangement.
Faclair – An online English – Scottish Gaelic dictionary incorporating Dwelly
Reading

Bennett, Margaret, (1992) Scottish Customs from the Cradle to the Grave (Edinburgh: Polygon)
Gordon, Anne, (1984) Death is for the Living: Post-Reformation Funeral Customs in Scotland (Edinburgh: Paul Harris)
Toolis, Kevin, (2017) My Father's Wake: How the Irish Teach Us How To Live, Love and Die (London: Orion)
Weller, Francis, (2015) The Wild Edge of Sorrow: Rituals of Renewal and the Sacred Work of Grief (Berkeley, California:North Atlantic Books)
Academia

A bibliography of the academic papers and archive recordings consulted during the course of the project will be available through the School of Scottish Studies Archives.